So I've been looking online to find the best deal on the type of shoes we need--black, non-slip, closed-toed kitchen shoes.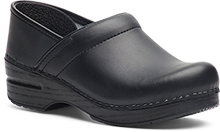 The school recommended Danskos, which I'm really not a fan of. I don't want to spend $115+ on a pair of shoes that I think are hideous (no offense if you like them....not my style).
I emailed the school to see what all the options were, and was kind of surprised to find out
Payless Shoes
has a line of restaurant shoes...and they're less than half the price! (yes I realize Payless doesn't always make the best shoes...but with no income right now, they fit my budget).
The
safeTstep
shoes come in a ton of styles, and I woke up to a 25% off my entire purchase coupon in my email this morning, so I went to take a look.


I narrowed it down to these....
In the end I went with the ones on the left, they seemed to have more padding to stand on them for hours at a time. With my coupon and the lack of sales tax (I drove to Jantzen Beach) they ended up costing about $26. And, once I figure out what's up with my Financial Aid on Thursday, I may end up getting the pair on the right as well :)
***
For the record, I'm not sure Danskos come in my size anyway....I wear a kids size 4
***